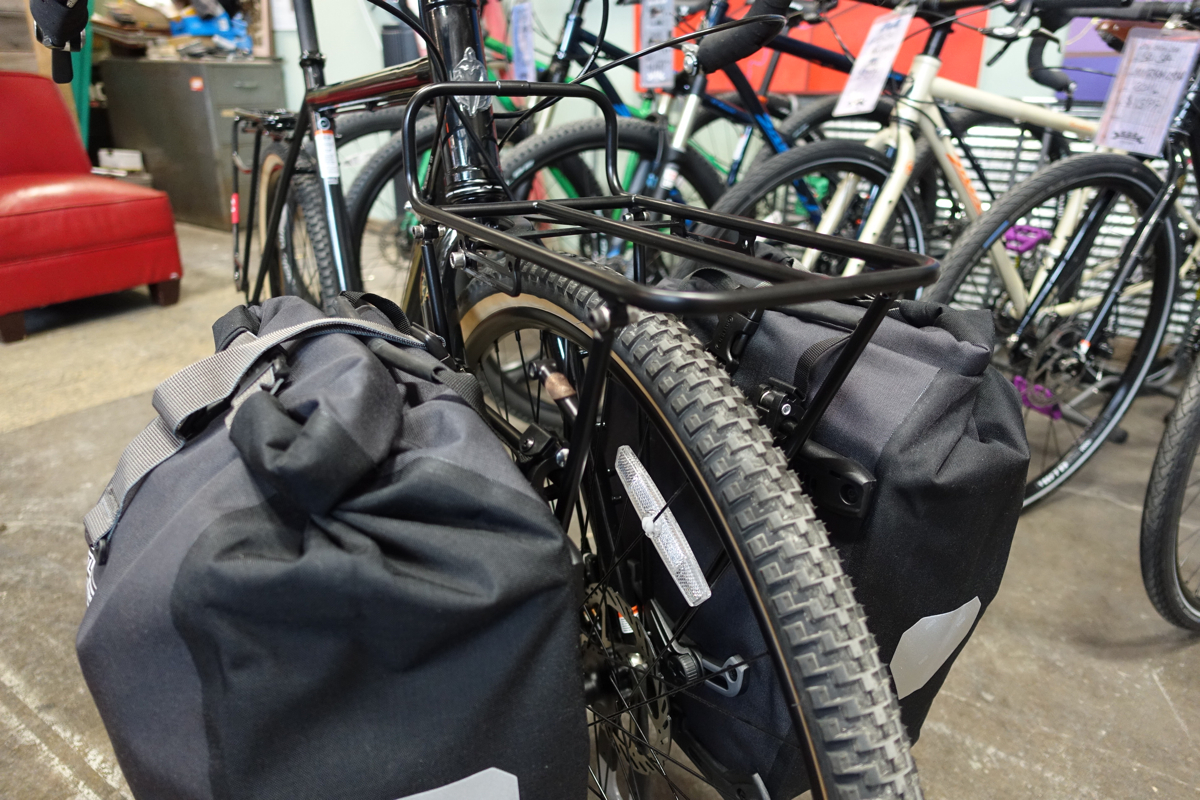 We've been die-hard fans of the Pass and Stow rack for a while. Numerous design features set it apart from any other front rack on the market, and I firmly believe that, despite its $280 price tag, it's the best value for your dollar. I've mounted mine to everything from my cross bike to my 5″ fatbike, toured and commuted on it, wrecked on it, and it still holds up and barely looks any worse for the wear. And it's the stiffest load carrier off road while also coming in at a mere 2 lb 6 oz. The high pannier mounts provide a better space for your bags when you are riding off road and reduces the risk of catching them on rocks and in ruts, and the platform on top easily accommodates a variety of different heavy and/or bulky loads. We feel so strongly about the design that we made sure that the Steve Potts Trail Bike that we are selling has provisions to mount the rack simply and elegantly, and we designed our new front-end luggage bag around running it on the Pass and Stow.
Matt's latest design uses exactly the same legs as the original rack, but shaves weight by using a narrower, three rail top. If you don't think you'll utilize the platform, or tend to want to use a basket to carry top heavy or bulky loads, or even if you are simply trying to save some weight, the three rail rack makes a lot of sense. The really neat thing about this new rack is that the top bed fixes to the same legs as the original, so it's possible to replace just the top. In addition, Matt plans to unveil yet another design at NAHBS next month, a rear rack that uses the same three rail top. All three racks will essentially have interchangeable parts, making it a sort of modular rack system. With this system, you could potentially change your setup in the future without breaking the bank on a whole new rack. I like this malleability because it means I can get a really high end, well designed rack that I know will work with a variety of bikes, and for a variety of uses.
The three rail rack retails for the same as the five rail, $280. We took some photos of the new rack on a 2016 Salsa Marrakesh with some Ortlieb panniers for illustration.
Filed under: Parts
Comments: None
---