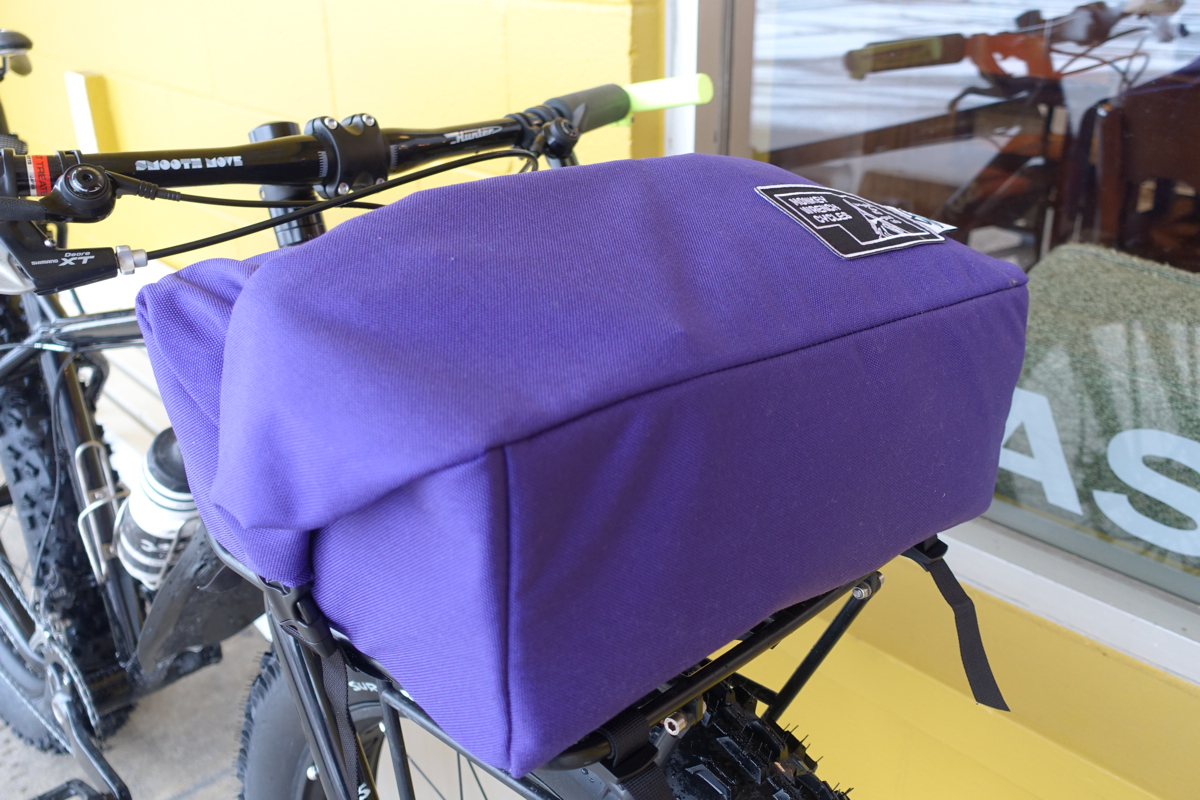 We have tossed around the idea of designing a bag for a while, and we always thought it would be rad if we could get Scott at Porcelain Rocket to make it for us. Well, we were chatting, and he thought it was a great idea too, so we went through some ideas we had, and he busted out a couple prototypes for us to test! We wanted a bag to be used in conjunction with our favorite basket, the Wald 139, but also wanted the option to use it as a stand alone bag on our favorite rack the do-it-all Pass and Stow.
We were really pleased with the prototypes. It's a simple Cordura design, with a reinforced inner bottom, and rolltop closure. For commuting and short trips around town, the bag snaps into a basket with the two roll-top clips: easy to remove and bring into the store with you, but plenty secure enough to make sure it doesn't rattle out. For longer trips where weight is more of a concern, but you aren't going to need to remove the bag for any reason, it makes sense to ditch the basket and strap it directly to the rack. The bag can pack down very small, or expand upwards to hold an extra large load. The daisy chains on the bottom of the bag make it easy to fix to the top of any big platform rack.
The first batch is slated to be done mid-February. We are going to do a grab bag assortment of colors, but if there is something you'd like in particular, get in touch with us at the shop in the next week or so, and we can make a special request. We are planning to launch our webstore with this bag as the first item, so, for those of you who live out of town, ordering one should be a cinch. Retail will be $175. Check out the photos for more details, or feel free to send any questions you have to info@monkeywrenchcycles.com!
Filed under: Parts, Uncategorized
Comments: 1
---