Halsey NF Overnight Ride Recap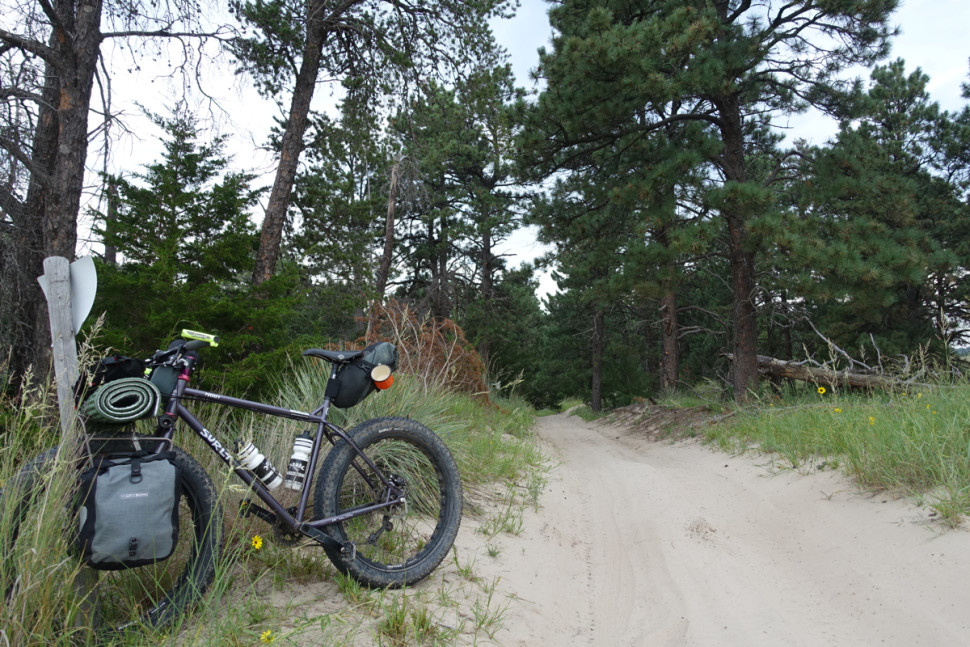 Every time I leave the Sandhills region, I'm confounded about how I got lucky enough to have experienced such a wonderful wild open place. It's a stranger, more fascinated feellng than I have really felt in any other space. It makes me proud to live in Nebraska, and lucky to boot. Being from the pervasively agricultural eastern part of the state, we don't often get to experience the wildness and openness that is central and western Nebraska. Of course, the Sandhills region has changed over time and looks different now than it did a hundred fifty years ago before white folks started ranching it. But still it offers a truly rare glimpse into the feeling of existence on the grasslands of the Great Plains. Its a pretty rad feeling to be alone in the openness of the plains. It makes you feel small.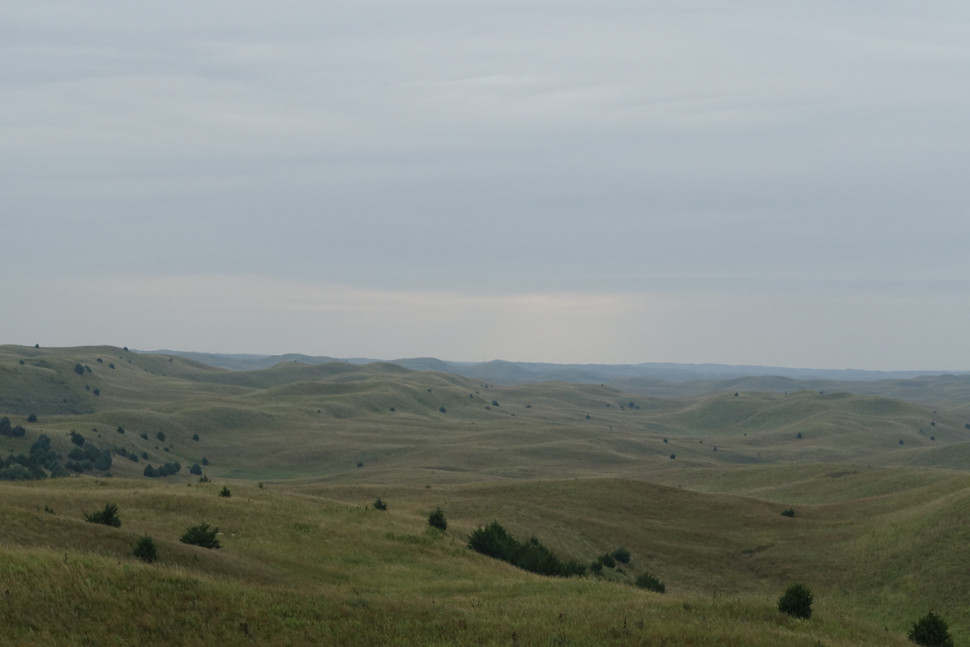 Plans fell through with a couple people, so I ended up riding out at the Nebraska National Forest by my lonesome this past weekend. As much fun as camping with a group can be, I certainly welcome the solo time when it happens, especially in more remote places. I got a bunch of exploring done, and look forward to many more trips back for further investigation. Next time I'll give a bit more advanced notice so that folks can fit it into their schedule if they want to come!
I left the directly from the shop after we closed on Saturday to make it in late to camp, but be fresh early on Sunday morning. The drive took just under 4 hours, and that was with a gas stop. I headed straight for site 38, where Vince and I have stayed before, and lucky for me no one was there! I was in bed by 11, and ready to go the next morning at 630. Daylight made me realize that the whole Bessey campground was full of OHV users, and I hoped that there wouldnt be too much traffic on the trails. I had planned on parking at the Dismal Trailhead and leaving my car there till the following day. The trailhead was empty and I was on the bike by 8 am.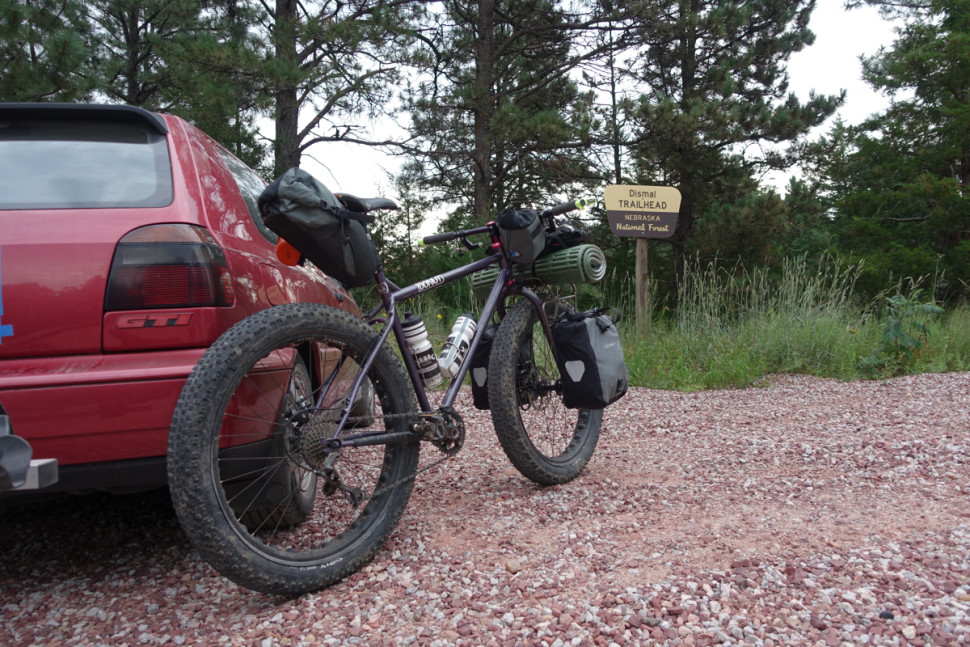 The Dismal Trail is a developed OHV trail that runs from the trailhead, just a few miles from the Bessey Campground on the north side of the forest all the way down to Whitetail Campground on the southern border along the DIsmal River. It was a blast! While there is a lot of climbing you lose quite a bit of net elevation over the course of 12 miles. There were definitely some steep pitches, and there was actually some plastic netting staked into some of the steeper grades, which made for great traction climbing. I didn't encounter these nets anywhere else in the forest, but this was also the most cross-cut trail with the steepest grades. Lots of really fun, steep, bermy descents- I don't think I have ever hit some of the speeds that I did on my pugsley before! I definitely had to get off the bike a couple times and finish a few climbs, but I'm pretty sure tha with either a) a lower gearing than my 1×9 drivetrain provides b) a more aggressive tire like the Surly Nate or c) any 4.8-5″ tire things would have been a little different. That being said, the 3.8″ Surly Knards worked great, and if you aren't hiking at least a little bit, you're probably missing out on some of the experience anyway…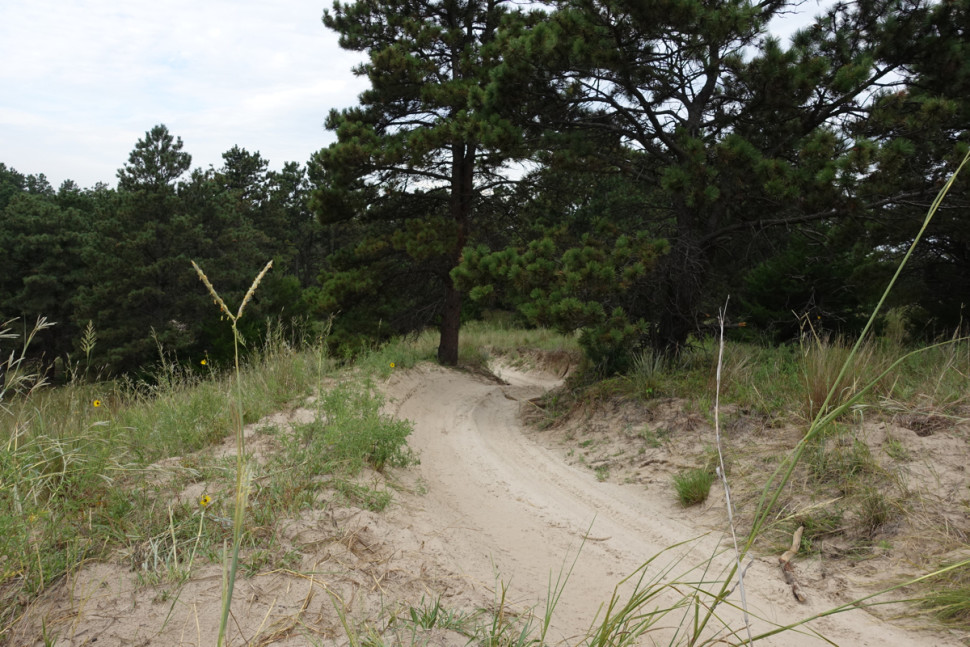 A guy and his son passed me on four wheelers just past this turn, and said something about me having made it pretty far. I told him I hoped to get a lot further! I was having a blast bombing down some of these descents. It's for sure a unique kind of riding, and can be as fast or as slow as you want, but everything feels kind of flowy in a soft, drifty sort of way. The Dismal Trail is definitely an ATV trail- a lot of the other stuff that I rode was more along the lines of a sand road or doubletrack, but this one was definitely designed with speed and fun in mind. If you make it out with a fatbike I hightly recommend it!
I had initally been thinking about staying at the Whitetail campground, but when I made it there by 11 in the morning, I certainly thought that making it to the Natick camp on the western side would be feasible, but I stopped to take a break anyway. I explored a bit around the campground and filtered some water for myself out of the camp pump, and parked it in the little OHV area along the river. This little designated several acres is full blown out sand- no grass whatsoever. It's fun, but a lot of work in dry, blown sand! I sat and had a sandwhich and took a swim in the Dismal before heading out again.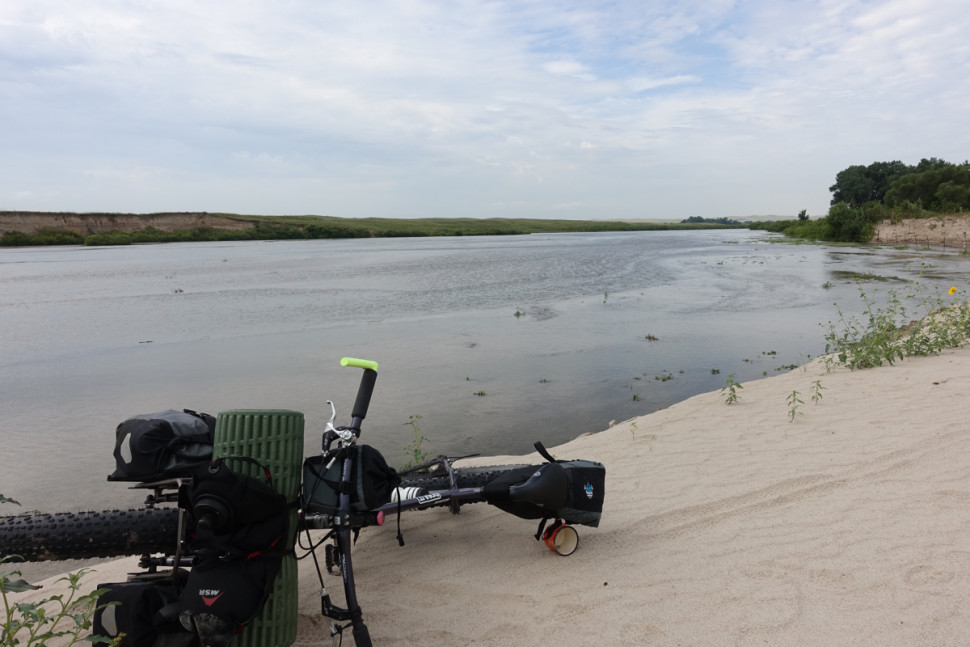 Everything I had ridden so far was forested, but as I made my way west along 203 Road, it was fairly flat and out in the open. 203 follows the river valley for a bit before it starts jogging more north and into the hills. A lot of slow climbing eventually got me into the western part of the forest that is completely open and extremely sparingly forested. I was wanting to check out "Signal Hill" which is marked as a point of interest on the map, but I must have missed the turnoff for it. Next time! Regardless, with just a little elevation and no trees, you can see for miles and miles and miles and miles. Green sandhills as far as the eye can see.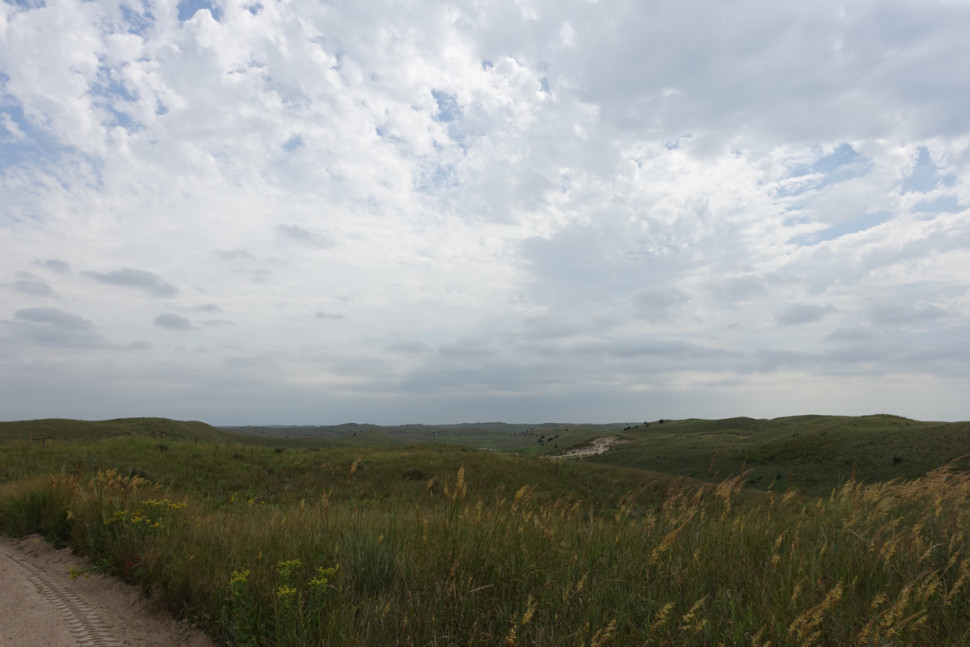 I followed 203 Road as it wound its way north and turned back east towards 212 Road and Natick campground. What a wonderful winding ribbon of sand! While 203 is labelled as "maintained gravel road", the sand content is still extremely high. It also seemed to me to have been really recently graded, on account of the gravel being real soft and having a lot of green plant bits mixed in, and it seems I was actually just trailing the grader for most of the day, as I passed him just a few miles from the end!
Just as I was pulling into Natick it started to sprinkle, so I set my tarp up in some haste and prepared to hunker down. After a cup of coffee and a second late afternoon lunch, the rain let up and I went out for a couple hour hike. Natick is situated on the westernmost stand of trees, and also has quite a bit of elevation, so if you venture out just a little bit west you are rewarded by some pretty incredible vistas.

Back in camp I was already starving again, so I made some tuna and couscous, had another cup of coffee and fifteen other things, and called it a night. It had started drizzling again, but the rain never really took off in earnest, and I was cozy under my giant tarp in either case. It definitely felt weird to be sleeping outside in 60 degrees after sweating it out in the 80's recently!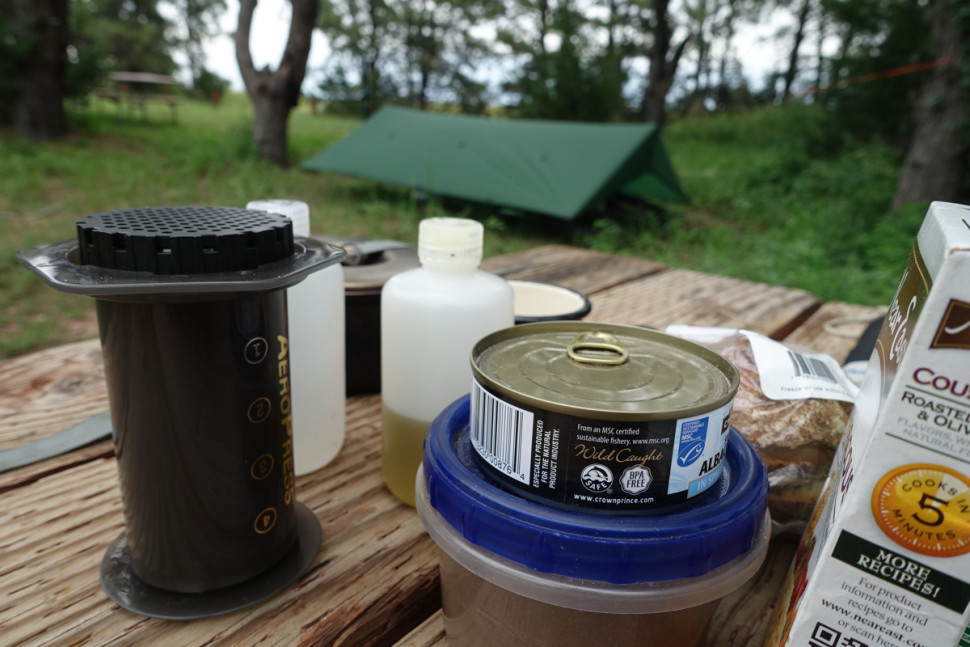 Natick may be my favorite of the campgrounds at Halsey. While it doesn't have the proximity to water that Whitetail does, it's a bit more remote, has little attraction to OHV users, and has some really wonderful hiking around it. All of the campgrounds have extremely well maintained vault toilets, and water pumps. I wasn't sure if the water was potable or not, so I filtered just in case, but it sure tasted great!
I woke to a misting rain the next morning and packed everything up pretty quickly after some breakfast and a double helping of coffee. I had scoped out a route that would hopefully take me on some more minor 4wd trails back to Scott lookout tower, and to the Dismal Trailhead from there. The trail I was really counting on was 201, which picks up acoss 212 from Natick next to the windmill. Windmills are really the best way for locating yourself- they are all numbered, are everywhere, and you can pretty easily find which one you are at by looking at the windmill numbers on the map. Pretty convenient when you are disoriented in the middle of miles of dunes in every direction. Anyways, 201 looked like it cut across to the eastern part ot the 203 loop which would connect me back to the north part of the forest.
At the start 201 was at best a doubletrack, and pretty soon became barely legible. If I hadn't already been on it, I think I would have been hard pressed to point to where the trail was! The grass was mostly above waist high, and was covered with water, so naturally I was pretty soaked and picking up tons of sand. Fortunately my drivetrain hummed right along, and other than stopping occasioinally to pick some grass stalks out of my cassette I had zero mechanical issues! After miles of grasslands, I began weaving in and out of stands of Ponderosa pines, and eventually back on to 203.
I would like to go back and ride more of the 4wd tracks like 201 on a drier day. The water definitely slowed me down, and because I was so wet and sandy I was afraid to take the camera out and only got a few pictures, but it was really incredible just riding along on barely-a-trail in the middle of nowhere. I'm pretty sure that these tracks would be great without the wet grass, they're well tamped down due to lack of OHV use and you can really cook on them! I should also mention that none of this would be possible without tubeless. The goatheads are incredibly thick out there, and I was riding over whole bushes of them the entire time. Not a single flat, and I never even had to add any air.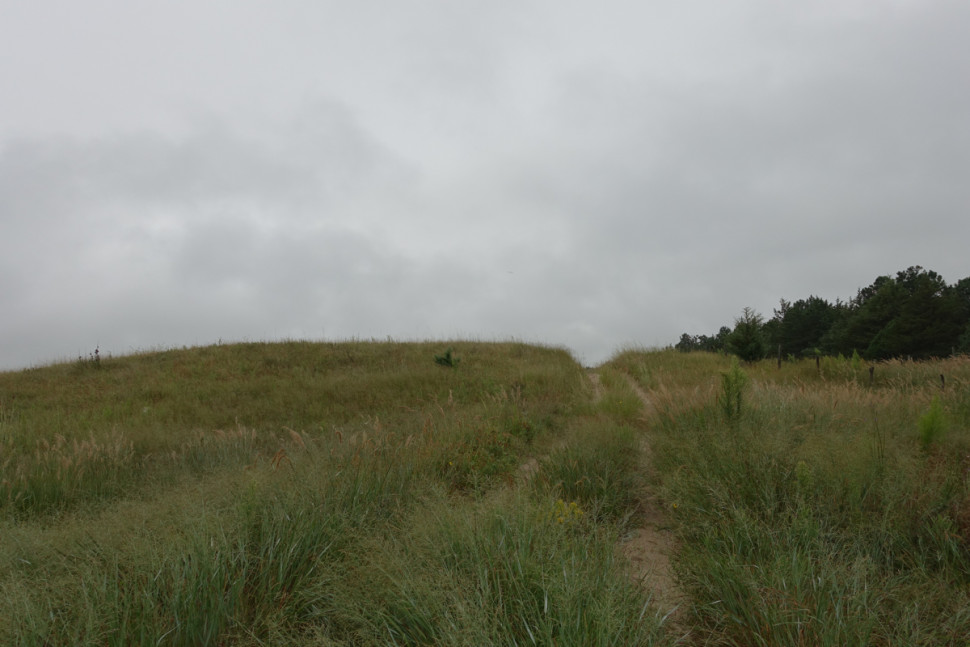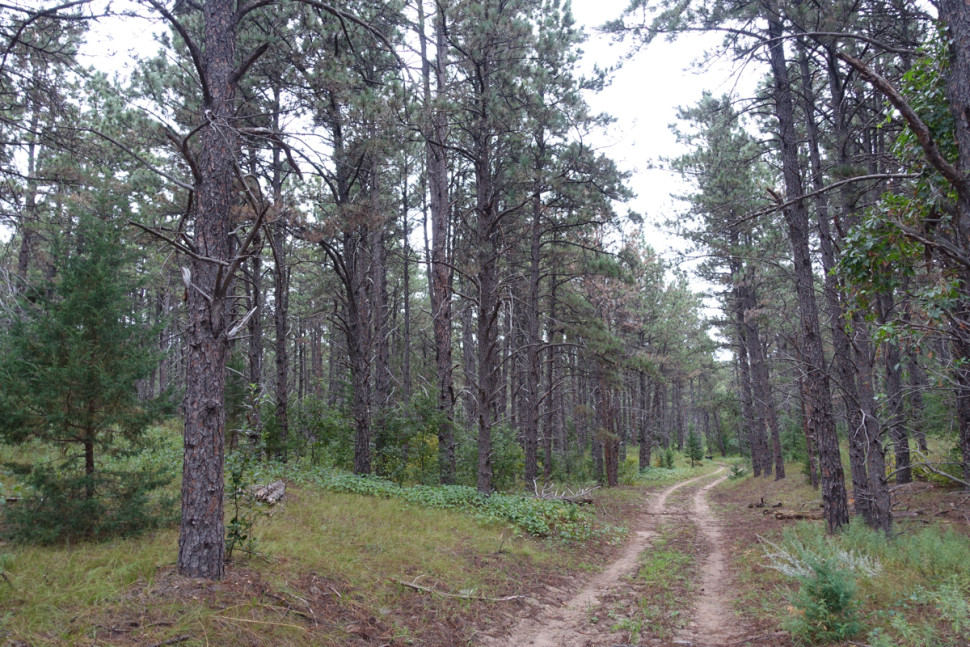 Once I was back on the main drag (203) heading north, it was pretty easy, dry going. I wound my way up to Scott Fire Tower and had some lunch there. The view from the top of the fire tower isn't to be missed! Hands down my favorite in Nebraska. There is a National Recreation trail from the firetower three miles back to Bessey campground that I wanted to check out, and it actually was the only time I rode a trail that wasn't a double track. It was fun, but for sure designed with hikers in mind, and didn't flow quite as well as the OHV trails in the same area.

It was a pretty short trip all things considered, but I feel like I got to explore some new areas, and learn a bit more about my gear, riding conditions, and planning some future routes. I can't wait to get back out here, the place is truly a gem, and I'm pretty convinced that a fatbike is the best way to see it. Hopefully we'll be planning some sort of similar venture out to to the Samuel McKelvie National Forest which is just north of Halsey near Valentine, Nebraska over Labor Day weekend. The riding should be similar, though we may base camp in one spot and just do some day rides from there instead of overnighting it. If you're interested… let us know!