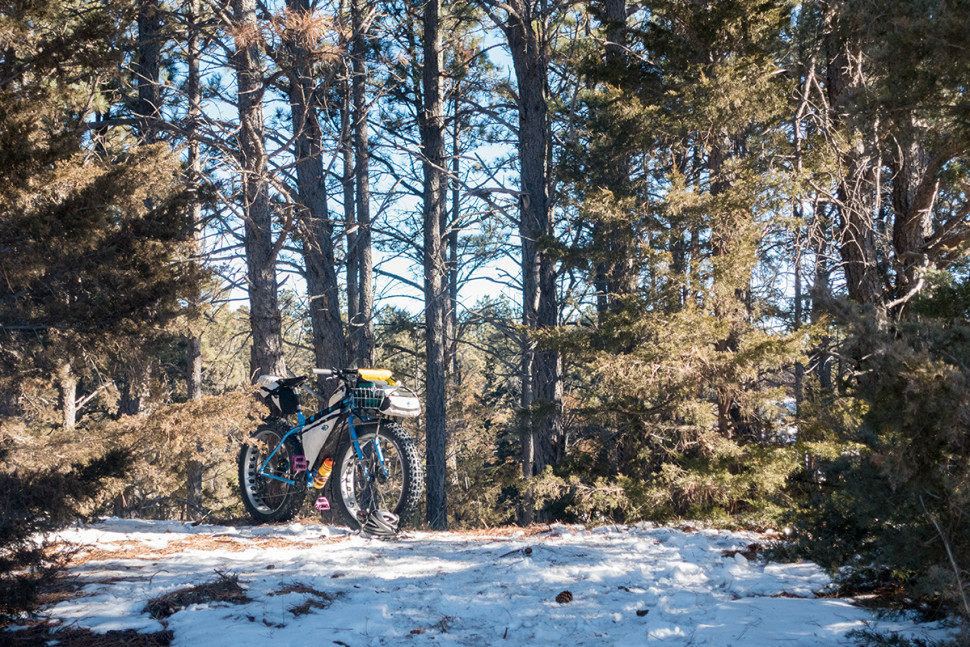 There aren't any. But it's been jokingly applied to the constant winds that we get here in the Cornhusker State, and justifiably so. Instead of heading out to climb a mountain, we ride out into the wind, suffer mentally, and reap the benefits on the way back (as long as the wind doesn't change). There's not much to stop or slow it down here on the Great Plains, and it's nearly a constant in our forecast.
As Pete and I headed out to Nebraska National Forest last weekend (yeah it's becoming a weekly trip), we were keeping a close eye on the forecast. Temps didn't seem so bad, but they were calling for sustained 35+ mph winds on Sunday, dying down to 25 mph Sunday night and Monday. I've camped out there in windy conditions before, but not quite to that extent. The pines do a pretty good job of canceling it out, but I was curious what they would do to under such a heavy battering.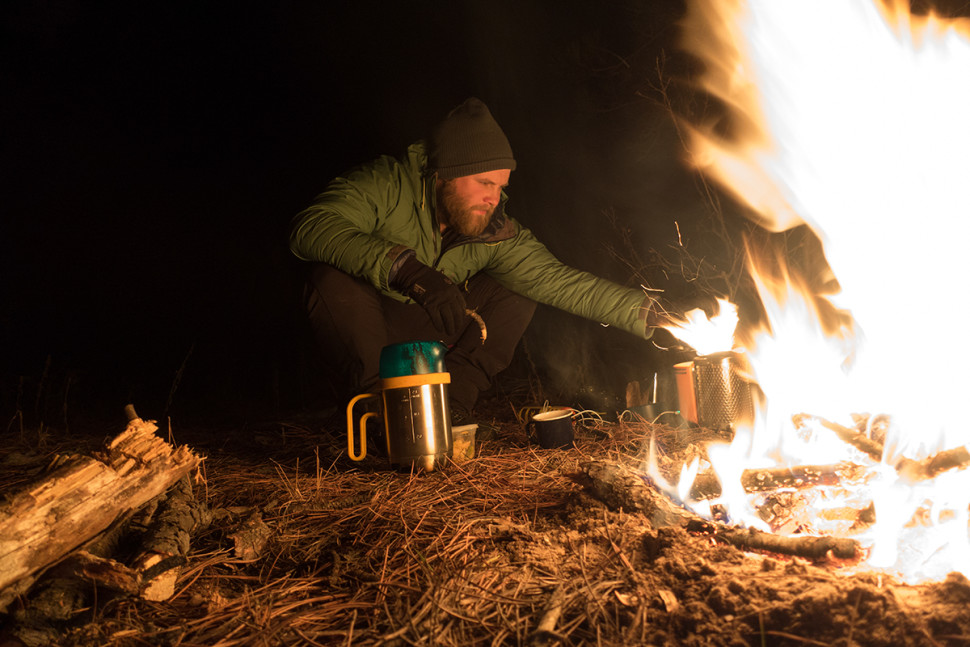 After getting in after sunset on Saturday, we rode in a ways to camp off of the Dismal Trail. The winds were picking up, but we found a fairly sheltered spot, had a good campfire, and got some good rest under clear skies. So far, we were dealing with the wind pretty well.
The massive snowstorm that hit Nebraska a week ago combined with a week of warm temps left us with some heavy, partially melted and then refrozen snow covering the roads and trails. Sunday's ride was more hampered by the difficult road conditions than the wind, and it was pretty slow going. Fortunately, Pete and I are more motivated by taking in the natural surroundings than by trying to cover any great distance, so we were still pretty ok with the amount of pushing that we did.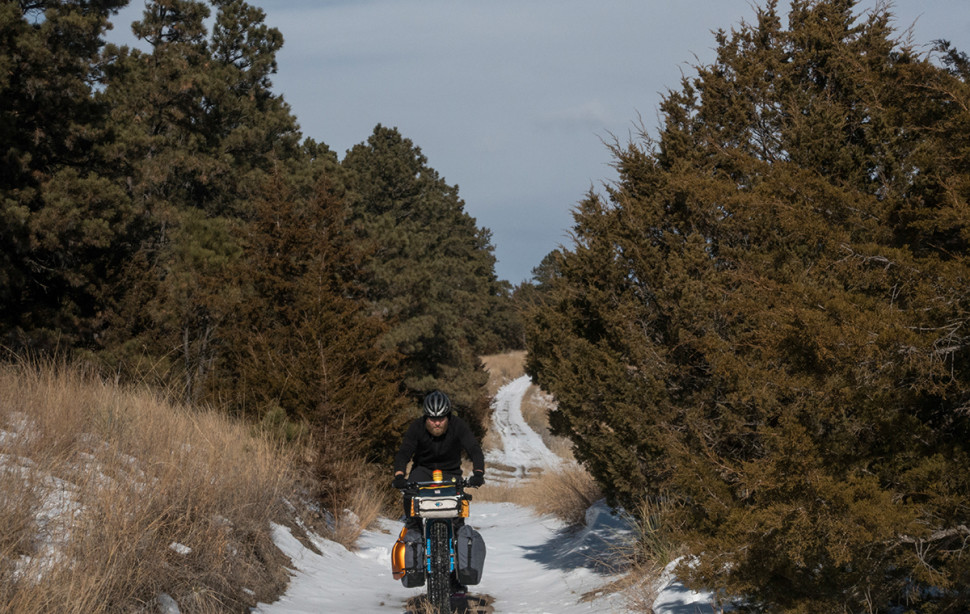 We started looking for a camp with plenty of daylight left, and found a spot off of Road 211 that fit the bill as well as anything we saw. The southern side of a large Sandhill, and downwind of a couple eastern red cedar stands, we had a good little spot that seemed pretty protected. The pines were nearly bent over from the high speed winds, and some of it was still making down to the ground, but only the big gusts. I had hoped to find a spot without any wind, but there was nothing that was going to stop some of the high wind speeds that we were dealing with. We made sure we were clear of any dead timber.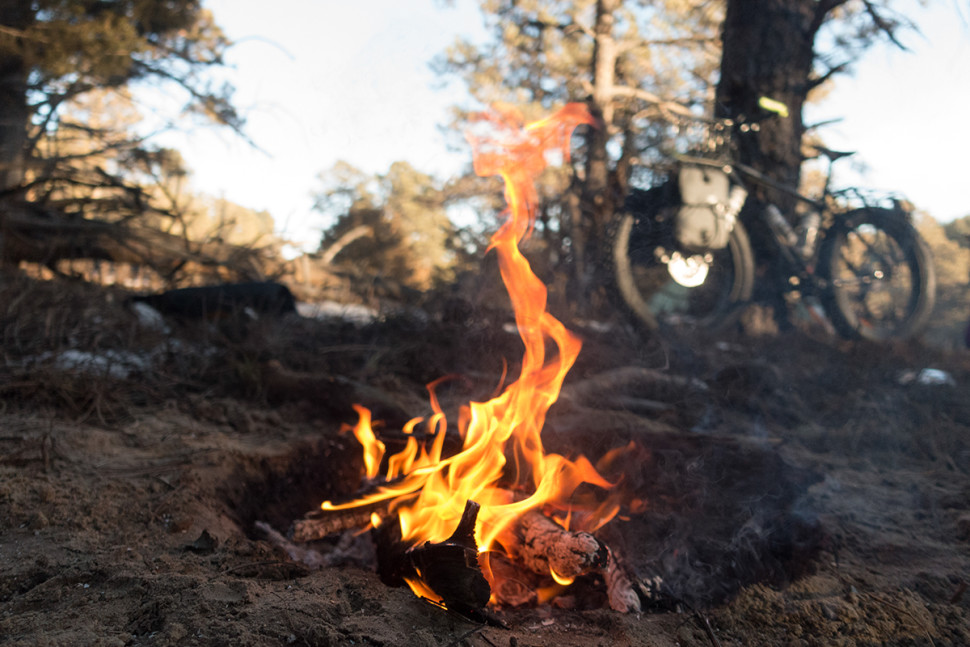 Plenty of daylight left us an hour to go for a hike and explore the surrounding forest. We got back and fixed dinner, and spent a long evening by the campfire. Our camp was perfectly situated to take in all of the morning sun, and after a cozy night in my hammock, it did just that.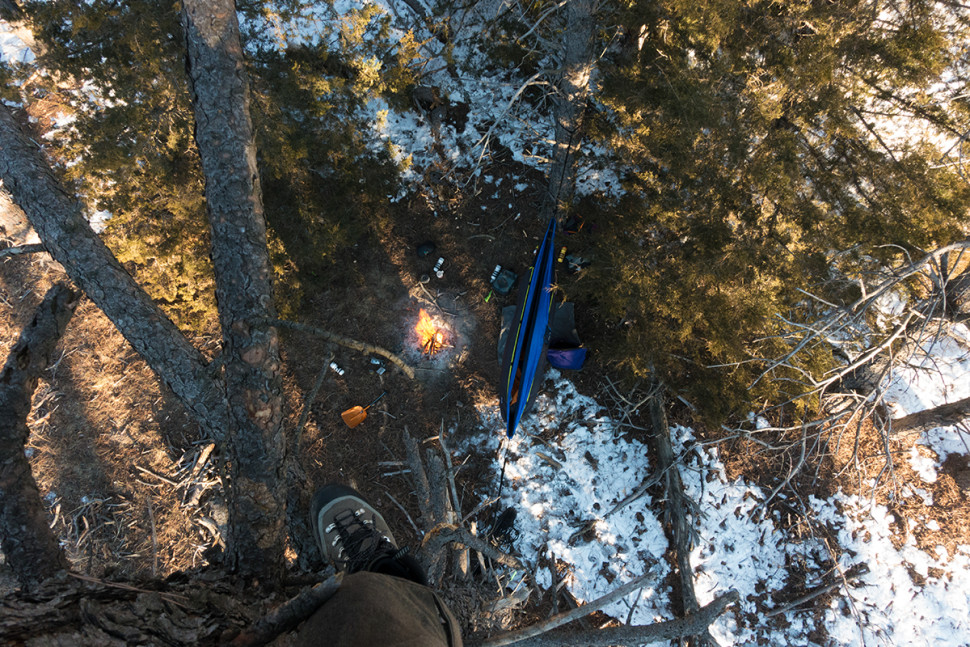 We opted for the more heavily trafficked Road 203 on the way back to our vehicle by the ranger station on Monday. The winds were bad, but we were able to stay pedaling for the entire ride.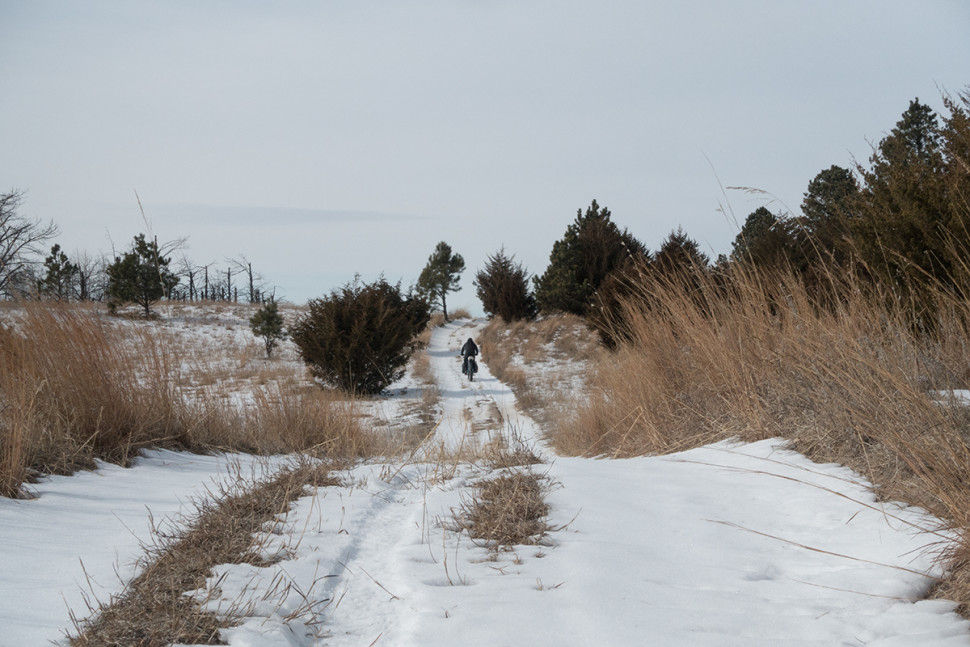 The main thing that I've taken away from the past couple visits to Halsey is that I think I'm done running a front biased load. I still want a fair amount of weight up front, but I think that I prefer a more balanced load than what I rode this trip. Instead of running my Monkey Rocket Bag and my panniers up front, with a small stuff bag over my rear wheel, I'll run panniers on my rear rack like I did last weekend. It gives you a noticeable amount of extra traction when climbing in loose sand, and lightens up the steering a little bit. I'll be dialing that in a little bit next time I'm out there.